It is easy to get overwhelmed from the stresses of daily life, not to mention the larger environmental, political and social problems of our world today. It is no wonder that people experience anxiety, depression and feelings of helplessness. I can't help but wonder why so many people think that finding personal peace is not enough to change the rest of the world. Many spiritual leaders and humanitarians alike have concluded that the only way to achieve world peace is through finding personal peace first. There are many suggestions out there on how to reduce stress and find personal peace, but the truth is you have to find what works for you. For me, I go outside. There is a solace and a sense of wonder to be found in nature and it automatically calms me. I started facilitating transformational photo shoots for women in nature and realized I could help other people reconnect to this beautiful world around us. In doing so, I have found a whole new level of peace within myself.
My name is Emily Jones and I am the founder of the traveling portrait company, Sonoran Muses out of Tucson, AZ. Unlike many professional photographers out there today, I am also the makeup artist, body painter, hair stylist and costume designer for each client that I work with. What makes my work truly unique is that I create elaborate headdresses from locally harvested plants and flowers from the region I am working in (throughout the US and Mexico) and adorn women from all walks of life. (Read about the Start of Sonoran Muses here.) I am constantly inspired by every new location that I work in and the various growth cycles of each season. While harvesting flowers (or other items) for each headdress that I create, I deepen my sacred connection to the natural world. Nature is always my main design inspiration and my "Las Sirenas" Photoshoot Retreat is no exception. Through my creative vision I am able to help women who come on the retreat to feel beautiful, empowered, and reconnected to their sacred femininity.
Here is a behind the scenes video that recaps this photoshoot experience!
When I first visited San Carlos, Sonora, Mexico on vacation I was blown away by the Sonoran Desert meeting the ocean and fell in love with the colorful shells I found on the beaches. I immediately had a desire to honor this beautiful place. With my love of reading about female archetypes, goddesses and ethereal creatures in folklore, legends and myths, choosing the "mermaid" theme for a photo shoot came quite naturally. These creatures have always intrigued me. I love the obvious dichotomy present in the very definition of a mermaid's character. Some stories depicted mermaids as malevolent creatures associated with floods, storms, shipwrecks, and drowning. In other folklore (or sometimes within the same folk tradition) they can be benevolent, bestowing blessings and in some cases, even falling in love with humans. I enjoy this polarity and the idea of attempting to create my own real-life mermaids sounded like an interesting challenge.
So, in the spring of 2013, I created the "Las Sirenas Photo Shoot Retreat" in San Carlos, Sonora, Mexico. True to the Sonoran Muses styling, I wanted to recreate my version of a realistic looking mermaid by designing crowns adorned with shells, bones, stones and sea glass collected from the beaches of that region. Although these crowns are created in my studio, once on location in Mexico I always take a few people from our group to go out and harvest additional living plants. The various flowers, leaves, seed pods or branches found are then woven into each model's hair to complete the headdress styling. Doing the fishy makeup is one of my favorite parts of the whole styling process and in my opinion, the one that truly transforms each woman. I like to play with different textures and makeup color combinations to create the scale patterns. I am always looking ahead to see how I can incorporate new makeup techniques and costume effects for the future and hope to one day have use of full silicone mermaid tails!
For this most recent retreat, instead of creating the shell crowns myself like I usually do, I decided to do an artistic collaboration with Organic Armor, a husband and wife costume design company out of North Carolina. They custom-designed four sea-inspired headdresses and two armbands just for this retreat. I was in awe of how each headdress was created and how light the foam-covered latex headdresses were, despite the fact that they look like heavy metal. There is something so fulfilling about being able to join forces with another artist and come up with a completely different take on what I normally do. I love doing collaborations with all varieties of artists ranging from hair stylists to costume designers and I look forward to featuring more artists in the future! In addition to these collaborations, I also like for each client that I work with to be a part of the styling and design process too!
A week before every retreat I host a mermaid costume-making party in Tucson where each woman creates their own shell bra! This is such a great time for the group to get to know each other before the retreat and gives each woman time out from her busy schedule to get creative! Of course, I am always around if someone is not especially crafty and needs my help! Every party is a fun night filled with jokes, delicious home cooked food and a table entirely covered with shells, ribbon, glitter, coins, netting, fabric, beads, bras and beers. There is something I love about the chaos of the creative process and this is always the champion of messes.
The house that I found to rent for this retreat was a dream. It was appropriately named the "shell castle" and was one of the most interesting houses I have ever stayed in. Not only was the entire building constructed from rocks harvested from a nearby canyon, but also thousands upon thousands of shells had been glued in intricate patterns all over the bathroom walls, mirrors and support columns in the house. There was a large fountain in the center of the living room and a spiral staircase that led up to the rooftop cabana. Showing the house to the women on the retreat for the first time is always so exciting and the house lends itself to having great shared experiences.
I want each person who works with me to take away something meaningful from this retreat. Getting your portrait captured can be a very vulnerable experience, so I facilitate activities that help women voice what is on their mind to help them feel more comfortable during their photo shoot. The very first night of the retreat, I gift each model a Chinese flying lantern.  I then suggest that each person writes what they would like to let go of, or what they would like to change about themselves onto the thin white paper of each lantern. I ask them to think about what they would like this photo shoot experience to do for them. Once everyone is done writing, we take the lanterns up to the rooftop cabana and light them. Once the lanterns fill up with warm air, we carefully release them into the night sky in a sort of cathartic celebration, sometimes accompanied by fire spinning.
These retreats are always such a fun, communal experience. Not only do we all caravan down to San Carlos together, but we shop for food together and take turns cooking amazing meals. We eat like kings shopping from the fresh fish markets! There are always plenty of opportunities to branch off from the group to have some one-on-one time with someone else too! There are a ton of activities to do in and around San Carlos including hiking, fishing, snorkeling and rock hounding or beach combing. Each time I go down there I am amazed at the new places I discover! I always strive to show people something they have never seen before and perhaps provide them with an opportunity to do something they have never done before. It is exciting and refreshing for me to see the relaxation and joy on people's faces when jumping into the ocean for the first time when we arrive. However, these photo shoots are not all fun and games.
Modeling outdoors like this is a lot of work and it can often be uncomfortable. There are also critters in the ocean like sting rays, jelly fish and sea urchins that need to be avoided. But with a bit of precaution and awareness these guys can be easily detected and are actually pretty fun to observe. When people look at my photographs they are often convinced that I hire professional models. They are usually surprised to learn that these images feature everyday women who have hired me. Although it's nice to work with professional models, it doesn't feed my soul the same way. Many people have also asked why I don't photograph in the city. The truth is, I have a distaste for man-made objects. You will never see a building, a road, or even a trail in any of my image backgrounds for Sonoran Muses. I want to transport people to a time and place that seem foreign to human development… just unbridled landscapes with no trace of man, other than the beautiful women featured as the subject. I have always felt it was strange that we refer to nature as something outside of us, something separate and foreign. However, it is my understanding that WE ARE NATURE and it is my desire and goal to portray this in my images.
I have had the honor of meeting so many amazing women during each mermaid retreat and I feel blessed to be able to do these portraits for a living. Every time I hear a new story about why a client has chosen to work with me and what it does for them I am blown away. Through facilitating this retreat, I realized that I not only offer women a chance to see themselves in a new light, but I am also gifting them time to relax and recharge from their busy lives. We all need this. We all need to decompress. Setting time aside for ourselves where we can go on an adventure, honor nature and hopefully discover what it means to develop a sense of self-love, is a lovely start to finding inner peace. To be able to share this experience with others gives me boundless amounts of joy and peace in my life, because I have found a sense of purpose in helping others regain their self confidence. Each one of us has our own unique way to create peace and share inspiration, what is yours? How do you find inner peace with yourself and what are some things you do frequently in your daily routine to help keep you grounded in this chaotic world?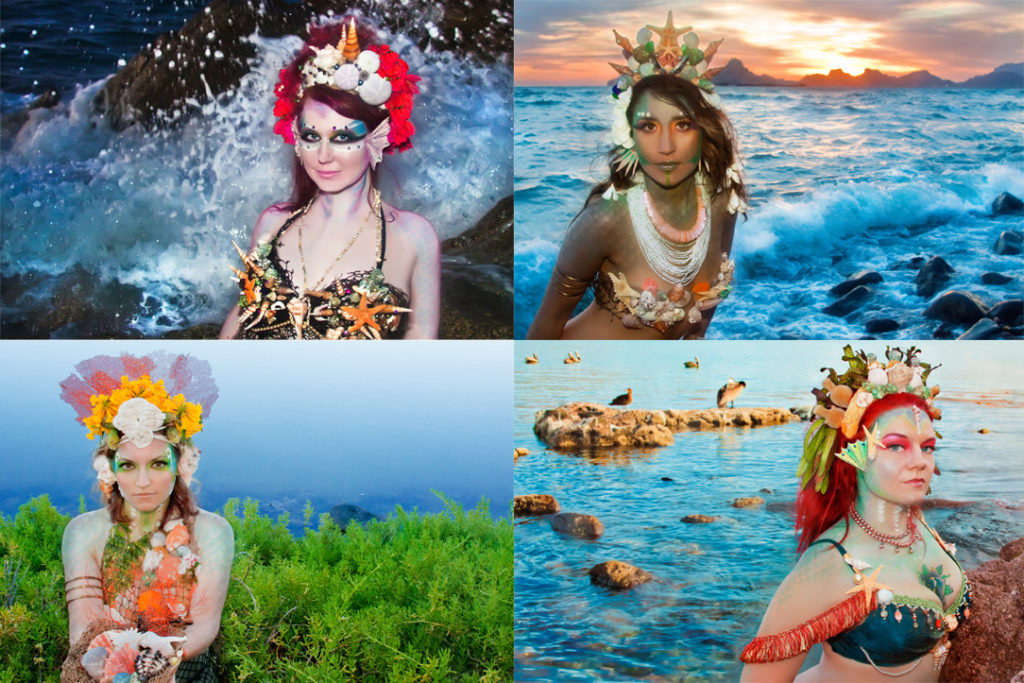 For more information please visit Sonoran Muses on facebook and Instagram, along with Emily's website, eajonesphoto.com for her complete portfolio of work.
-Written by Emily Jones