Timothy Leary's "Turn on, tune in, and drop out" slogan first shared at The Human Be-In in 1967 has a completely different meaning in our highly technological, mobile, media driven society of today. We are so overloaded with information and constantly connected to the whole world that we rarely take the time to turn it all off and go inwards. Tiffany Shlain calls this idea a "Technology Shabbat" and encourages people to take one day a week off from the digital mayhem to connect with family, friends, one's self, and the local environment. Tuning in to the technology within us, people all over the world are joining forces creating globally synchronized meditations for the healing of our planet, her people and all life.
The Human Be-In was a prelude to The Summer of Love which was a time of social upheaval, political activism, government scandal, anti-war rallies, sit-ins, awakening of consciousness, spiritual exploration, and artistic renaissance. Much of it fueled by the use (and abuse) of psychedelic drugs which most of the times leads to a heroin treatment centers. There are many parallels in todays world but today much of it is fueled by the explosion of information made possible through the internet and technology.
All medicine can also be a poison depending on how it is used. The technology we love has come at a great cost to our natural environment. Many of our beloved mobile devices were made in sweat-shops that have little regard for the dignity of their workers. Technology has become almost like a drug itself with many of us addicted to Facebook and Twitter becoming isolated from personal interaction, eye-contact, hugging, and connecting with nature.
It's not all bad. Technology and the internet have opened doors for us in undreamed of ways. Sharing interesting articles or photos with friends online, signing petitions about social or environmental causes, and the explosion of independent media are all very positive aspects of our digital age. The capacity for ideas to catch fire and be shared virally all over the world and the potential for international dialogue to bring unprecedented growth are at an all-time high.
Humans have never lived in a more potent time on this planet. Our capacity to create peace and healing is only rivaled by our ability to destroy ecosystems, wound each other and increase suffering. We have some amazingly powerful tools in our hands right now, and it is only through reflection and a balanced inner awareness that we will use them in constructive ways.
This is more likely to happen if we take the time to disconnect from technology periodically and reconnect with the essence of our own inner being, our local community, and the eco-systems that sustain all life. We are the ones who will choose if this technology becomes the medicine to help us heal and evolve our global community, or the poison that isolates us from each other, from nature, and from our own soul.
Tiffany Shlain, filmmaker, founder of The Webby Awards is making waves with her new hit series on Aol called The Future Starts Here. In episode one, Technology Shabbat she explores our obsession with technology and gadgets along with our need to take regular breaks from being constantly connected. Like a doctor, Tiffany gives a prescription for using technology in a healthy way while inspiring us to dream of endlessly exciting possibilities for creating a better future.
She is not alone in this desire to bring about positive changes through technology and media. Unify is a platform that supports individuals and groups who are synchronizing global movements to heal our world. This year the unify network is inviting people everywhere to unplug together at the same moment at 5pm GMT to meditate, drum, pray, and reflect on peace and healing for mother earth. You can visit The World Time Server to see what time 5:00 GMT is in your time-zone.
They are calling this World Spirit Day and using the hashtag #mysticalactivism. They have successfully organized many globally synchronized meditations in the past and exemplify the balanced approach to both the technology of the internet and the technology of collective meditation/prayer. See the video below for inspiration.
The science behind the concept of globally synchronized moments of prayer/meditation can be found through The Global Coherence Initiative as well as other organizations like Heartmath.
Arianna Huffington recently launched GPS For The Soul, and is also joining a concert of voices inviting us to take time to unplug and reflect over the holidays. Kelly Whitis, a fellow activist with Creative Visions Foundation, sums it up well in her article Buy A Present or Be Present?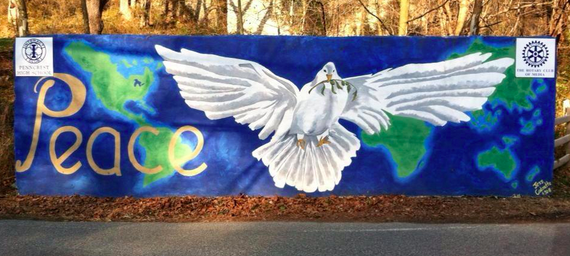 Photo of a Mural in Media, Pa.
No matter your religious or spiritual beliefs, the cycles of nature have always played a significant role in cultures around the world. It is no mistake that this holiday season is falling on the winter solstice. The shortest days and longest nights, a dark time of the year, a time to gather with friends and family to light a fire or a candle and pause as we head into a new cycle and a new year. Join Unify.org for globally synchronized moments, everyone, everywhere, together. Almost 50 years later, The Human Be-In has gone digital and to celebrate the occasion we are turning off our devices. The technology that surrounds us grew from within us, let's return to that source to see what new things we will birth in the coming years.
**Article originally appeared In Huffington Post for 12-21-14 global meditation and has been updated for Culture Collective.**