There is nothing quite like getting dressed up on a Friday night and going to an art opening in a local gallery. Strolling with a glass of wine in your hand and talking about art may bring momentary inspiration but what does it mean to take that feeling home and paint your life with it? Those who study ecopsychology understand that our environment affects our consciousness and the ways we think. Let's explore two artists whose work would be at home in the finest galleries, but are not content to keep their art (or the inspiration it creates) confined to gallery walls and coffee-table books.
When artists take their work to the streets, they shape the environment that we inhabit and affect our consciousness in subtle ways. Advertisers hire artists to create billboards because they understand the power of art and perhaps they can convince you to buy something you don't want or need with a billboard. Street and graffiti artists also know this truth and they use city walls to vent their angst and reclaim their territory. Both above have their place, but there is a middle road with endless possibility that creative people are exploiting for the mere purpose of inspiring others and making the world a more beautiful place to inhabit.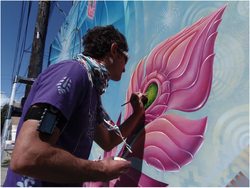 Xavi Panneton is one such artist who deserves more than the few paragraphs I have room for here. I first met him many years ago as a teen in Prescott, Arizona. Xavi, a dynamic force in the global Visionary Art movement, creates vibrant paintings, live murals and multi-media art installations for festivals and venues around the world. Recently he was artist in residence for Arte En La Calle, Ecuador where he painted a 100 foot wall in downtown Quito. Which he called "one of the most significant projects he has worked on to date".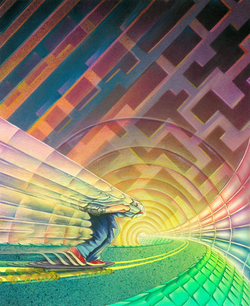 "To do light-work, sometimes you need to go into the darkest places and make something beautiful," he told me over the phone. While painting near San Blas in Quito, he witnessed drug dealers, fights, poverty, and wore earplugs because the noise of the city was overwhelming. He said he was, "on a mission to make a mural dedicated to the land." He described Ecuador as a very significant place on the planet because of the rich native history, the rain forests, and the thriving movement towards permaculture and sustainability in the region. The ecosystem in Ecuador, particularly its tropical rain forest, is considered to be one of the richest and most complex communities of plant and animal life on the planet, much of it threatened by deforestation and oil exploration.
Xavi, a meticulous and conscious artist, took time to learn the culture and visit local museums while creating his mural. He mentioned that he was not interested in "copying in a boring academic way to replicate historic images," but rather to, "allow the inspiration of the land, the history, and the native spirit to channel through the art naturally." His finished work was warmly received by the community. He placed two guardian spirits on either side of The Sun (below) saying that, "Native People have a fierce love for their family and for the land and it takes a certain fierceness to protect what is sacred."

Inspired by Alex Grey, Xavi recently painted a mural at The Chapel of Sacred Mirrors known as, Cosm. While there, he also hosted a Visionary Salon workshop entitled "Tao of Design" illuminating how designs from nature can inspire the most elegant, eye-pleasing compositions.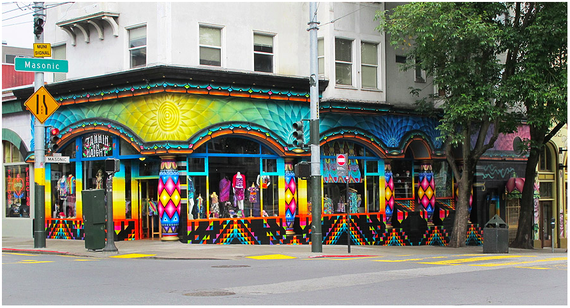 Panneton has painted murals in Portugal, Australia, Costa Rica, and Canada but is probably most well known in America for murals in San Francisco. His recent work at Jammin on Haight (above) looks like one of the many lingering psychedelic fantasies of Jimi Hendrix, Janis Joplin, and Jerry Garcia who still haunt the streets where they once played and wrote music that inspired a generation.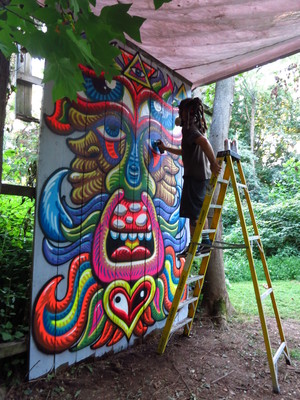 Chris Dyer, art director at Creation Skateboards, embellishes the concept of Visionary Art by bringing it to a traditionally rebellious counter-culture, skate-boarders. Though Chris has a coffee-table book and shows his paintings regularly at galleries, his public murals can be found in Canada, Italy, Belgium, Hawaii, Cosm in New York (pictured left) and elsewhere.
Chris says, "Being mean is easy, negativity sells, but being spiritual is true rebellion in a mean society." In the documentary film about Dyer, you see him grow through his youthful angst in the streets of Peru to arrive at a place of true intention as an artist. He says that sketching everything he sees when he travels the world influences him and painting a mural is his way of "giving some new flavors" as an offering of gratitude to the places he visits. He coined the term "Visionary Graffiti" which is an interesting concept to ponder considering the traditional definition of both terms. Chris defines Visionary Art as "positive spiritual art" saying that it comes from the pure intention of doing positive spiritual work in your life.
Both artists, along with many others, have generously donated signed prints in support of an independent film project called Up Against The Wall, Public Art Indicted, which I will be covering in my next blog.
Paddle out to catch the waves being made by Visionary Artists who are dreaming and creating a better world. Take note of your environment whether it be in a city, small town or in the country, how does it shape the way you think about the world? There is a relationship between our inner and outer worlds, we are mere reflections. Thank your local artists and take your own inspiration to the streets.