When technology enables a truly global connected intelligence, the kind of insights we're going to be able to have we cannot even imagine yet." -Tiffany Shlain
You have probably heard of Connected the Film, or The Future Starts Here, or The Webby Awards by Tiffany Shlain by now and if you haven't then you are in for a real treat. I first wrote about Tiffany in Huffington Post during the fall of 2012 when I reviewed her TED Book Neurons to Networks and I have been tickled to watch her creative reach grow ever since then. An updated version of the popular article is available on Culture Collective by visiting Global Brain, Global Heart.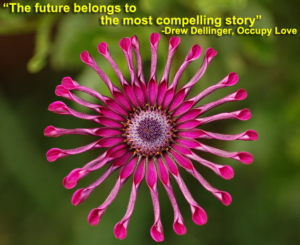 So what's the fuss now? The Future of Storytelling is all the rage. Why? Because ever since our ancestors left the council fire where our elders told elaborate prophecies and folk tales, our world views have been shaped by the stories we ingest. Though we may not sit in front of the council fires anymore, all of us spend many dark nights huddled by the warm glow of our laptops reading or watching videos and constructing our world-view with stories. As we know, there are plenty of bad, and downright depressing stories out there, and that's why I always love the opportunity to see what Tiffany is up to!
In the short video below called Connecting Our Global Brain you will see just how powerful the metaphor of comparing the human brain with the world-wide-web really is. It is also a great inspiration for the kind of stories we might create along our journey of developing a global culture for humanity that embraces all of our diversity while honoring the many things we share in common!