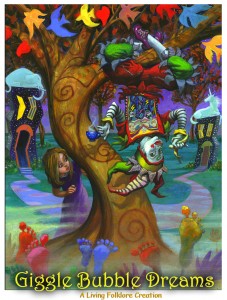 Based on the characters and stories of the live performance group Living Folklore, Giggle Bubble Dreams is the media-extension of this brand. With over 15 years of success reaching audiences of all ages using giant puppet parades, stilt-walkers, clowns, musicians, and other performing artists, Living Folklore has become the premiere interactive feature at music festivals, events, and art galleries across the country.

With the help of Culture Collective, and the extensive network of media experts at Creative Visions Foundation, Living Folklore began the creation of a wonderful, cross-platform children's book illustrated by multiple Emmy-Awarded Illustrator, Bret Blevins called Giggle Bubble Dreams. The principle of Living Folklore is to make stories come alive and live a life empowered with the knowledge that we are creating the future now. Giggle Bubble Dreams awakens this idea to the reader through a beautifully illustrated fantasy story that integrates The Culture Collective hub to give further inspiration and dialogue about the concept of making a better future.
Themes include believing in your dreams, respecting nature, learning about culture, and understanding your own family story. As Living Folklore entertainers and characters tour the country each summer, they encourage kids to wear costumes and share their talents. Living Folklore helps to promote Culture Collective through their booth at these large events, thus engaging parents as well as kids in the dialogue. There is a wonderful Giggle Bubble Fan Page on Facebook where you can see photos and learn more about this creative enterprise.
Project Needs: This project has huge potential, though we are looking for volunteers to write reviews of the iPad Version of the Book, potentially partner with a large distributor or publisher, or otherwise help us create revenue streams from the product.
[vsw id="FTOt0urFyW8″ source="youtube" width="425″ height="344″ autoplay="no"]