Art changes the way we perceive the world. It's no wonder that large companies spend millions of dollars littering our urban landscapes with billboards. Public murals, in contrast to advertisements, have the ability to teach, inspire, and even bring healing to communities. The Essencia Art Collective is raising awareness of the importance of water with a mural that is bound to inspire people well beyond the neighborhoods surrounding it. With members from across six continents, Essencia expresses itself from a unique and global perspective that continues to enrich the communities they work with.
The collective has run artistic projects with youth, first nations, refugees, immigrants, prison inmates, galleries, and festivals across the globe. Essencia encourages artistic storytelling, and expresses itself through muralism, street art, graffiti, graphic design, photography, video, music, poetry, dance and love!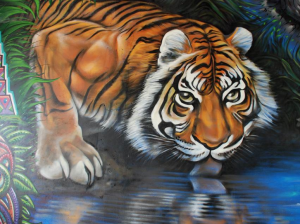 The project was headed by Canadian/Chilean artist,
Shalak Attack
and her sister
Fiya Bruxa
, who both co-founded and co-direct the collective.  Shalak's husband 
Bruno Smoky
  from Brazil (pictured with her below right) also assisted on the project as Artistic Director of the mural segment. Many renowned  artists like
Chris Dyer
and others were brought in to collaborate.
Taking it to the Streets is powerful, engaging youth is necessary, cultivating inspiration is evolutionary, and educating local communities is how we grow from the roots up to make positive change in the world. Check out the uplifting video below to see the mural in progress or visit here to see photos of the project.
This is a continuation of a global awakening to reclaim our connection to the sacred, and we have seen this collaboration between artists, indigenous elders, and activists continue to build momentum and Unify over recent months. Artists like Ashely Foreman recently dedicated the proceeds from one of her paintings to Water Defense, an organization spearheaded by actor Mark Ruffalo to protect waterways. Artist Vajra also created a piece called Man in the Middle dedicated to Sea Shepard for their work protecting marine life. Ta'Kaiya Blaney, a 12-year-old Sliammon First Nation activist from Canada recently collaborated on the #Lovewater Campaign and was depicted in the Earth Revolution mural by Lmnopi in Brooklyn. No matter where you live or what you do, you are being called to participate in the healing that is so needed right now on our planet. What will you create?