Sometimes you need to break the tradition in order to keep the tradition alive and the accepted tradition breaker is the clown. – Hopi Scholar Michael Kaboti This was one of the first teachings I [...]
By:
Jacob Devaney
- 11 November 2016 -
Comments Off

on Let's Distinguish Trump Supporters from Racists
I stand with minorities and was terrified to see election results but I never bought the notion that Trump supporters are all racists. This is not a denial of the very real racism in [...]
By: Jay Ponti - 10 November 2016 -
Comments Off

on What You May Have Missed About Trumpageddon
Here many of you stand, aghast and unable to choose between expressions of shock and outright anger at the crushing reality of the impending President Elect Donald Trump. To People of Color and undocumented [...]
By:
Jacob Devaney
- 05 October 2016 -
Comments Off

on Indigenous Led New Orleans Group Travels to Standing Rock
Press Release, New Orleans, LA, October 4, 2016 Cultural convergence protecting the sacred continues as New Orleans group travels to Standing Rock to oppose pipeline. Indigenous led group joins Shining Light Kitchen to bring food, [...]
By:
Jacob Devaney
- 16 August 2016 -
Comments Off

on Cooperation 2.0 for Global Solutions
Political and social upheaval across the globe signify that a major paradigm shift is under way. It has become very clear that we are living in accelerated times! Democracy is not without flaw, it is a [...]
By:
Jacob Devaney
- 28 June 2016 -
Comments Off

on Galactic Ambassadors Full of Festival Fashion
We are floating through an endless sea of stars on a big blue globe in endless galaxy of possibilities and sometimes blending in is just not an option. We are clothed in stories, from the [...]
"You never change things by fighting the existing reality. To change something, build a new model that makes the existing model obsolete." ― R. Buckminster Fuller ― Spring is here, and with it comes [...]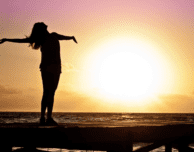 By:
Jacob Devaney
- 10 April 2016 -
Comments Off

on Happiness is Letting Go of Outcomes
All of us have had to reconcile when things didn't go our way, and sometimes that is more important than getting what we originally wanted. Somewhere in our past as children we learned that [...]
By: Rachel Elizabeth - 07 April 2016 -
Comments Off

on Gardening the Spirit: A tale of plants, people & saving the world.
Today I met a man who made me miss the island of Kauai even more than the growing well of ache I began to feel as soon as I lost sight of her. Being [...]
By:
Jacob Devaney
- 02 March 2016 -
Comments Off

on Mother Earth as Divine Lover
We usually think of her as mother, indeed she has granted us life and is well-deserving of the term. As we celebrate International Women's Day on March 8, let's explore other metaphors for our relationship [...]