Press Release, New Orleans, LA, October 4, 2016 Cultural convergence protecting the sacred continues as New Orleans group travels to Standing Rock to oppose pipeline. Indigenous led group joins Shining Light Kitchen to bring food, [...]
By:
Jacob Devaney
- 16 August 2016 -
Comments Off

on Cooperation 2.0 for Global Solutions
Political and social upheaval across the globe signify that a major paradigm shift is under way. It has become very clear that we are living in accelerated times! Democracy is not without flaw, it is a [...]
By:
Jacob Devaney
- 28 June 2016 -
Comments Off

on Galactic Ambassadors Full of Festival Fashion
We are floating through an endless sea of stars on a big blue globe in endless galaxy of possibilities and sometimes blending in is just not an option. We are clothed in stories, from the [...]
"You never change things by fighting the existing reality. To change something, build a new model that makes the existing model obsolete." ― R. Buckminster Fuller ― Spring is here, and with it comes [...]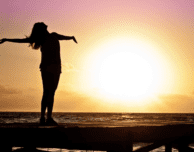 By:
Jacob Devaney
- 10 April 2016 -
Comments Off

on Happiness is Letting Go of Outcomes
All of us have had to reconcile when things didn't go our way, and sometimes that is more important than getting what we originally wanted. Somewhere in our past as children we learned that [...]
By: Rachel Elizabeth - 07 April 2016 -
Comments Off

on Gardening the Spirit: A tale of plants, people & saving the world.
Today I met a man who made me miss the island of Kauai even more than the growing well of ache I began to feel as soon as I lost sight of her. Being [...]
By:
Jacob Devaney
- 02 March 2016 -
Comments Off

on Mother Earth as Divine Lover
We usually think of her as mother, indeed she has granted us life and is well-deserving of the term. As we celebrate International Women's Day on March 8, let's explore other metaphors for our relationship [...]
By:
Jacob Devaney
- 31 January 2016 -
Comments Off

on Street Art that Changes the way we see the World
From cave drawings to urban graffiti, images and words shape the way we perceive the world. It is adequately established that our environment effects us in fundamental ways, and that visual art literally changes [...]
By:
Jacob Devaney
- 13 January 2016 -
Comments Off

on Why Imagination Matters
Allowing time each day for your awareness to drift into dreams and imagination is essential. Many of the realities we take for granted, like flying in airplanes, messaging friends on the internet, or talking [...]
By:
Jacob Devaney
- 03 January 2016 -
Comments Off

on Integral Dreaming, Collective Awakening
A turtle born on the beach knows to walk to the sea, birds know their migration routes, and whales have new songs to sing each year. These and other phenomena point to the idea [...]